Laura Bishop
Managing Principal
Building a business requires a strong work ethic and entrepreneurial drive. Building relationships calls for softer skills: compassion, optimism, energy, and personality, to name a few. Laura Bishop has all those and more.
You are a business partner of Laura's for about 5 minutes. After that, you are a friend. Clients and colleagues call her a "true connector" who is creative, professional, authentic, and positive. It's no surprise that Laura consistently tells clients that LBC becomes part of their team. They've seen her wait alongside them past midnight for votes to be tallied, or take a long school bus ride to join a show of force at the state Capitol. They applaud her "willingness to jump in" and appreciate her "around-the-clock support and guidance."
Laura puts in 110% effort to find the best solutions…
Laura brings her personal traits and savvy skills to the boards and committees of several nonprofit and professional organizations. Said one executive director, "When we have a challenge in front of us, Laura puts in 110% effort to find the best solutions."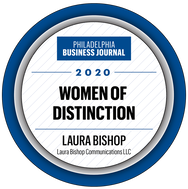 Laura's professional accomplishments and community service earned her recognition as a 2020 Woman of Distinction by the Philadelphia Business Journal, one of her proudest achievements. She has also been named one of SNJ Business People's Top Women in Business and a South Jersey Magazine Superwoman. 
The establishment of LBC in 2011 and its steady growth since then have been another source of pride. Laura, who has been called the Queen of Connections, has assembled a dynamic, diverse and talented team that is affectionately dubbed the LBC Crew. 
Talents and Expertise
Building enduring relationships and effectively identifying people's strengths are just two reasons why Laura has been able to grow the practice so significantly. She brings her clients success because she is genuinely committed to their missions and goals. As an integral part of her clients' teams and strategies, she offers a uniquely personal approach to meeting and exceeding expectations. Laura believes the success of her clients and Crew both depend on creating room for growth and opportunity, and she strives to provide that for everyone she works with.
Civic and Professional Engagement
In addition to Laura's incredible ability to connect with clients, she also serves on a number of boards and is devoted to creating meaningful and long-lasting relationships within the community. Laura recently took on a new challenge as an adjunct professor in the business department of Atlantic Cape Community College.
Favorite Projects
Laura's vast skillset allows her to make a substantial contribution to just about any project, but some of her favorite work has been that of school bond referenda. It thrills her to be the expert calvary that relieves busy district leaders, and brings immense satisfaction to see a community understand and participate in a process that will impact their schools and communities. Another of her favorite areas to make an impact is issue and crisis communication. It's Laura's second nature to bring courage, calmness, honesty, and integrity to a challenging situation, and the gratitude expressed by clients is worth the early morning, late night and weekend phone calls, multiple re-writes, and stressful decisions that are the hallmarks of that work.
Outside the Office
Laura stays active and sets aside time for herself. She has practiced Pilates for nearly 20 years, she walks several miles each day, and she loves a walk on the beach and a swim in the ocean. Although an advocate for young professionals to learn to play golf, Laura prefers tennis. Renovating and decorating her 85-year-old duplex in Ocean City also brings her great joy.